S1000D Issue 4.1 Untangled:
552+ Business Rules Decision Points Arranged into a Linear Topic Map to Facilitate Learning, Understanding and Implementation of S1000D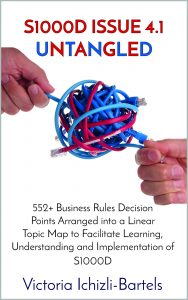 This one of a kind guide and workbook will support you in learning, understanding and implementing S1000D (Issue 4.1 in particular), independent on your role within your organization. Whether you are a manager making decisions to be recorded as business rules, an administrator of a common source data base (CSDB) application at your organization or a technical author who creates S1000D conformant content for  your company's products, this book will support you in your work and help you accelerate the S1000D implementation process within your project or organization, and also make it more efficient .
A tip: This book will also be very useful for your work with the S1000D Issue 4.2, which is being released this year. Issues 4.1 and 4.2 are upwards and downwards compatible, meaning that you can use the new structures defined in Issue 4.2 in your Issue 4.1 configured CSDB. And this also means that the content of the Issue 4.1 will make the largest part (in a improved and polished shape) of the Issue 4.2. Therefore the topics identified in this book can be also found in the Issue 4.2.
Please Note (!!!): if you buy the paperback version of the book, then you get the e-book for FREE.
E-book is available for $9.99 at:
Paperback is available for $39.99 at:
Description (as on back-cover and at online bookstores):
S1000D has become the preferred technical standard for complex technical publications. It is utilized globally, both geographically and across the landscape of products and industries. Both the defense and civil sectors widely implement it for products ranging from small hand-held devices to those that fly, float or move on land. Among the currently available Issues of S1000D, Issue 4.1 is the most frequently recommended, having embraced and implemented requirements for all types of industries.
The frequency with which S1000D is updated, along with the requirement to lower the cost of products in general (and specifically technical publications), have resulted in a pressure to accelerate S1000D implementation. In order to do this S1000D users, new and seasoned, must learn quickly and be given access to requisite information regarding its implementation.
This resource offers a novel approach to how information on the Specification is usually structured. It orders various Business Rules Decision Points (BRDP) (both those defined by S1000D and new ones added in this book), into a linear BRDP chain, to provide a linear topic map with clearly emerging associations and occurrences.
This resource can be used:
To navigate the Specification while learning to work with it;
To find references on your topic of interest;
To navigate the Business Rules Decision Points Index in a common and logical order;
As a first draft Table of Contents for a S1000D implementation map for your project or organization;
As a checklist for your project or organization on what parts of S1000D to implement or not;
As an easily-editable and sharable to-do-list to implement your project;
As a logic or algorithm to feed into a software tool and generate business rules documentation;
And more.
Genre: BUSINESS & ECONOMICS > Decision-Making & Problem Solving
Keywords: business rules management system
Please Note (!!!): if you buy the paperback version of the book, then you get the e-book for FREE.
Reviews:
5 stars on Amazon: "This book is going to be a great resource! There are very few resources that deal with S1000D and this one looks to be the clear winner. The language is clear, easy to read, and very helpful. It is written in a way that is informative and easy to follow. The locations of the business rules to where they are found are helpful as well. I very much enjoy the OW's words of wisdom. These are insights that, for someone new to S1000D, might be invaluable tips. I have learned much from this book will most likely refer to it over and over."