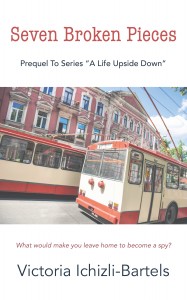 Seven Broken Pieces: A Short Story
(Prequel to series "A Life Upside Down")
Description:
Young and resolute, still suffering from her sister's death in Vietnam, Sasha Leroy Palmer decided in the 1960's to fight the enemy on the other side of the Iron Curtain from within. Even if this meant becoming a spy.
She convinced herself that her sister's death was the only reason she came here. To help her home country, the one that was truly free, to fight one that wasn't (even if it proclaimed otherwise). It was the duty of every true American citizen to resist Soviet propaganda and help weaken the force of evil. Especially since the Cuban Missile Crisis.
So why then did every letter from home, secretly passed to her by colleagues in the cause, make her feel that this hadn't been the reason? That there was an even bigger one for her coming here.
Hadn't she made peace and accepted her father's decision? Was she really running away from her responsibilities, as her parents insisted? And if she was, what could make her stop running?
Surely not the man who caught her as she stumbled on a shaky trolley-bus in the capital of Soviet Moldova. Or could he?
Available at:
Amazon.co.uk, and
other Amazon sites,
as well as at CreateSpace.